---
Welcome to the Bayview Retirement Home, that noble establishment indelibly etched into the annals of comedy, famous for it's two favorite "inmates", Tom and Diana.
---
QUOTE
Diana says some pretty funny stuff! Click below to see the quote of the week.
If button doesn't work, press reload on your browser.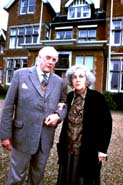 Here at The Patio, we are trying to create the same atmosphere as that room that our friends, Tom and Diana, so love. Please kick back and enjoy, and don't let Diana bother you too much, it's just her personality. Maybe if you're nice, she'll invite you to afternoon gin and possibly even paint a picture of you! Hope you enjoy!


Here you can find names, pictures, and descriptions of the major characters. A must read for all to-be Waiting for god fans.




A comprehensive list of all the episodes produced, with descriptions and explanations of each.



Well, now that you've read about and seen all the episodes, take the Waiting for God quiz and see how you do, that is if you think you're good enough!




So what people make this show what it is? Read all about the actors and other film and T.V. credits in the Actor Information section.




Sound like interesting people heh? Find out what thay have to say, in their own words.




Well I just can't get enough, how about you? If you're interested in some Waiting for God videos or the Waiting for God book, this is the place to buy 'em!




Now it's time to check out the Waiting For God Message Board brought to you by assembly. Start a new topic of discussion, or respond to someone else's post. We're trying to build a community of viewers who are regular posters, so please give this a try!




Is the message board a little too slow for you? Here's the real time Java chat room. Here you'll find some lighthearted discussion about British comedy.



Goof around and help Tom escape from bayview. This is in a form format and loads of fun. Watch out for Geoffrey's VW and whatever you do, don't go near Basil, he's especially feisty today.




How about visiting my guestbook? Even if you don't want to sign it, just see who else has dropped by.




If you need to get in touch with me personally, you can reach me at my Tripod answering machine. Just click here and leave me a message and your email address and I'll get back to you ASAP.




We're always discovering new things about Waiting For God. Here you can find the latest news involving the cast, crew, and set.




Where else can you find sounds of Diana insulting people or listen to the theme song, right here of course!




Take a look at what other people have done, see the other nice Waiting for God page, or drop by on some other BBC productions.